Three sites – one goal:
High standards of quality, reliable production methods, the latest equipment and qualified, committed staff ensure that tried and tested DEUTZ quality components are produced at all our sites.
Production sites and parts range:
Cologne factories
Crankshafts, camshafts, crankcases, pipes
Herschbach factory
Rocker arms/rocker arm brackets, fans, service parts
Zafra factory, Spain
Connecting rods, cylinder heads, gear wheels
Products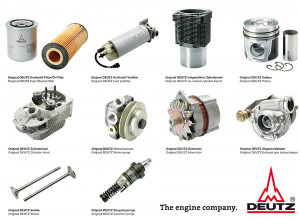 Genuine Product
Much is demanded of DEUTZ engines. You should rely exclusively on DEUTZ Genuine Parts to ensure that your expectations are met for the entire life time of an engine.
Only DEUTZ Genuine Parts offer you
Optimum availability
Rapid-response delivery service, world-wide
Parts service, also for OEM components
Prime quality of all parts due to strict quality assurance
Low-cost range of Xchange® parts as alternatives for use
Protection against product forgeries by security labels
24 hour ordering service
Labelling service for equipment manufacturer customers
eXchange Products
A new life for old engines – a service which engine manufacturers all over the world have always offered by the name of "general Overhaul" or "replacement engine" as a customer service. DEUTZ also confronts the passive philosophy of single use with an active and sustainable philosophy of re-use; this saves resources without putting you the customer at a disadvantage. On the contrary, Xchange engines and parts are often the more reasonable, faster, more economical and environmentally friendlier alternative.
DEUTZ Xchange engines and parts are equivalent to the original in all aspects; this also applies to engines and parts for which series production was discontinued years ago. Compatibility and the legendary DEUTZ quality are at the forefront of all Xchange components. They ensure that the full performance capability and reliability is achieved even after an overhaul. Even the guarantee we give you is equivalent to that of a new engine.
Read more at DEUTZ.com
Read more about Parts eXchange at DEUTZ.com
Read more about Engines eXchange at DEUTZ.com
Operating liquid and adhesives
Because every detail contributes to your success, we offer you professional help in the selection and delivery of the best possible operating fluids and additives so that when it says DEUTZ, it really is DEUTZ.
Even the best of engines can only convince when the operating fluids and additives which it uses also meet the highest demands. Rely on DEUTZ here too. Whether these are oils, cooling system protection or additives, with operating fluids from DEUTZ you benefit from years of experience and the expert knowledge of our specialists. The engine and operating fluids harmonize in a perfect system.
The new "DEUTZ Oil Diagnosis" procedure and our high-tech lubricating oils give you the opportunity to increase your engine's performance and at the same time considerably prolong its life.
DEUTZ Oil
Oil Performance Check
Cooling System Conditioner
Engine Corrosion Protection
Kits
Please follow up with ECTRA promotions for: fuel parts kit, filters kit .. etc